BeeBetter Fresh Royal Jelly - is currently on backorder. You may still purchase now though and we'll ship as soon as more become available.
Certified Organic Fresh Spanish Royal Jelly
Royal jelly has been renowned for many thousands of years for its remarkable health-giving properties.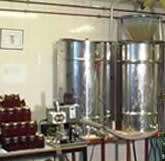 In Ancient Egypt, royal jelly was always reserved for the Pharaoh because it was believed that it would ensure that he had a long and healthy life.
Fresh royal jelly is nature's powerhouse of nucleic acids (RNA and DNA), enzymes, vitamins (A, B C and E), minerals (potassium, calcium, magnesium, zinc and manganese) and gelatine (a precursor of collagen, which might explain why those who take it believe it keeps them vital and youthful). This concentrated and unique nutritional profile means that this popular elixir has a protective effect in the body, helping to promote health and immunity, and overall vitality.
As with many superfoods, royal jelly has been handed to us by Mother Nature. Its secret lies with its makers — one of the busiest little creatures on Earth: the bees. They spend their busy lives collecting pollen from flowers and naturally processing it into royal jelly and honey. Nobody knows this better than our royal jelly supplier, who has run his family company in Spain since the 1890s and who produces Organically-Certified Royal Jelly.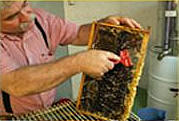 This raw product has not been pasteurized, does not contain additives, preservatives or colourings, and only undergoes filtering to remove impurities. Also, the beehives are situated in a naturally protected environment, with a minimum radius of 3 kilometres away from any kind of contaminants, which creates a very high quality, clean, fresh and organically certified product.
BeeBetter Organic Royal Jelly is available in a small 20g glass bottle, which should last approximately one month.
Directions: Take a ¼ tsp of royal jelly on the tongue first thing in the morning, followed by a warm drink.
Storage: Please note that this product should be refrigerated. (It is fine out of the refrigerator for a few days during delivery, but otherwise it should be kept cold for longest life.)
PLEASE NOTE, BECAUSE OF THE NEED FOR REFRIGERATION IF IN TRANSIT FOR MORE THAN A FEW DAYS, AND IMMEDIATELY AFTER DELIVERY, WE DO NOT RECOMMEND LONG TRANSIT TIMES. INTERNATIONAL ORDERS WILL NOT THEREFORE BE ACCEPTED.