AlphaCurcumin Plus - New Improved Version - is currently on backorder. You may still purchase now though and we'll ship as soon as more become available.
AlphaCurcumin® Plus is a curcumin complex with added Essential Turmeric oils, Bromelain and Quercetin. The latest improved version of AlphaCurcumin Plus is formulated to be exceptionally bioavailable - it comes in a form that is easily absorbed by the body. 
Curcumin is ground from the root of the Curcuma longa L. plant (see picture below), a member of the ginger family which grows wild in the Himalayas and across South Asia. This yellow spice, also known as turmeric, plays a central role in ethnic cuisine in those areas, giving the traditional dishes of these regions their characteristic yellow colour. This spice has been a component of Ayurvedic medicinal systems of India, China, Tibet and the Middle East for over 2000 years.
It is also a naturally powerful antioxidant, and is the subject of a great deal of scientific research. Overall it is regarded as one of nature's best protector nutrients and body cleansers.
Unfortunately Curcumin is it not efficiently absorbed by the body in food, and you have to eat quite a bit of it to get the good effects.
A solution to this problem has been found by finely mixing the curcumin with lipids, as curcumin is fat-soluble. This vastly increases the rate of absorption because the lipids carry the curcumin into the body, increasing bioavailability. There are several such methods and technologies, and they vary considerably in their effectiveness. See the foot of this page for a diagram comparing these different  technologies.
The latest improved version of AlphaCurcumin Plus utilises a new cutting-edge extract that is significantly more effective — Longvida® Optimized Curcumin.
What is so special about Longvida® Optimized Curcumin?
Normal curcumin extracts rapidly degrade in the stomach and intestines in processes called glucuronidation, which make the curcumin inactive and easier for the body to eliminate through the kidneys and bile. This means that even the highest quality curcumin extracts are inefficiently absorbed into the body and are rapidly eliminated — on average half of what is absorbed is excreted  within 2 or 3 hours.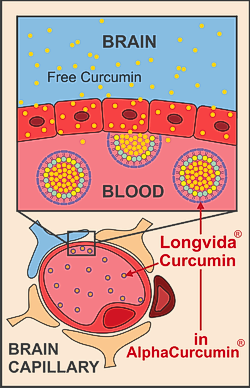 Longvida® Optimized Curcumin was developed by neuroscientists at the University of California, Los Angeles using a patented* delivery technology called Solid Lipid Curcumin Particle (SLCP) Technology.
SLCP™ Technology gently coats the curcumin with a specific combination of lipids to form nano-scale lipid capsules or micelles. These micelles are like tiny solid diving bells that protects the curcumin in its journey into our bodies, allowing it to efficiently pass through cell barriers, including the blood-brain and blood-retinal barriers, bringing the benefits of curcumin throughout the body. (In fact, this curcumin was specifically developed by the neuroscientists to bring the full benefits of curcumin to the brain.)
This unique structure of the SLCP curcumin means that it is transported through the lymph and not the blood, allowing it to largely bypass liver metabolism and stay in its free unglucuronidated form (unlike its inactive metabolised form). This ability for Longvida® curcumin to stay in the body has been measured at 2.5 to 3.75 times longer than standard curcumin. In other words, Longvida® curcumin is stronger for longer, but also in more places such as the brain.
This SLCP Technology means that the curcumin stays in its active (unglucuronidated) free-form - especially important because it is this lipophilic "free curcumin" that has the ability to pass through the blood-brain and blood-retinal barriers, bringing the benefits of curcumin to where it is often needed the most.
Also included in AlphaCurcumin Plus are Bromelain and Quercetin, which enhance its overall anti-inflammatory effect, as well as AlphaBlend®, a proprietary blend of Klamath algae, enzymes and Bioperine® (black pepper extract) for further enhanced absorption.
AlphaCurcumin contains 100% active ingredients, with no binders, fillers or other excipients.
BCM-95 also stays in the blood for 8-12 hours, much longer than standard curcumin extracts, making this formula one of the most potent curcumin complexes currently available. This curcumin extract is 90% curcuminoids, with each capsule providing 225mg of curcuminoids.
Ingredients: Longvida® Optimized Curcumin, Vegetable Cellulose (capsule), AlphaBlend (enzyme and algae mix), Quercetin and Bromelain.
Directions: Take 2 capsules a day, preferably at mealtimes, or as directed by your health practitioner. (30 daily servings per bottle.)
Ingredients per 2 veg capsule daily serving
Amount
Contains no excipients such as fillers & anti-coagulants. Vegan product.
Longvida®

 

Optimized Curcumin

500 mg
AlphaBlend®


Klamath Blue Green Algae, Protease (5,000 HUT/g), Amylase (50,000 SKB/g), Lipase (10,000 LU/g)

220 mg
Vegetable Cellulose (capsule shell)
192 mg
Quercetin (Quercetin Dihydrate)

100 mg
Bromelain (2,500 GDU/g)

72 mg
Longvida® is a registered trademark of Verdure Sciences, Inc.

*For patents info visit www.vs-corp.com/ip.html